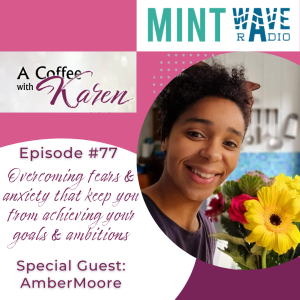 Monday Aug 22, 2022
Episode #77 Overcoming fears & anxiety that keep you from achieving your goals & ambitions.
Amber Cherelle is an Empowerment Coach, EFT/TFT Master Practitioner & NLP practitioner. She is also the founder of the Limitless Mum Academy.
As a single mum of three, who has been on many adventures, detours & incredible experiences in her life to date, she has had to overcome her own fair share of fears, anxieties & limiting beliefs.
She once felt stuck due to the responsibilities of motherhood but now she knows parenthood is the greatest opportunity to make BIG things possible!
Amber lives her life by two moto's:
"Lean into joy at every opportunity"
&
"Follow Your Dreams, They Know The Way"
As an empowerment coach Amber's mission & purpose is to help other ambitious mums confidently achieve their dreams & goals without fear, guilt or limiting emotions - ultimately helping mums to become limitless!
www.limitlessmumacademy.com/home
www.facebook.com/ambercherellecoach
https://www.facebook.com/ambah.moore
https://www.linkedin.com/in/amber-moore-b786bb221
______________________________________________
Your Host: Karen Roberts
I coach and train struggling personal trainers, coaches, consultants, therapists and network marketers and healers how to build their business online using social media without bugging friends and family, without chasing or spamming people and having prospects coming to them.
Download my FREE ebook https://KarenRobertsCoaching.com/Ebook
Join my FREE facebook group https://www.facebook.com/groups/6figuresandbeyond
Website - https://KarenRobertsCoaching.com
Newsletter - https://KarenRobertsCoaching.com/Newsletter