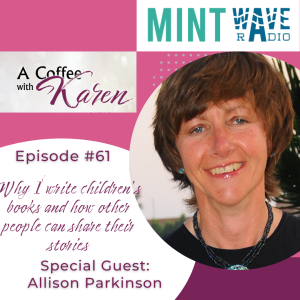 Monday May 02, 2022
Episode #61 Why I write children's books and how other people can share their stories
Allison Parkinson is a Catford-based children's author and illustrator. She writes and illustrates picture books and chapter books.
Her stories take young readers on fun and educational adventures where they can encounter talking tigers and creepy clocks – and make friends with a time-travelling 10-year-old.
Allison's books celebrate diversity. By basing many of her characters and illustrations on her mixed-race daughters, she hopes to do her small bit to help more children see themselves in stories.
For more information about Allison and her books, visit: www.tigerseyebooks.co.uk
___________________________
About your Host: I'm Karen Roberts.
I am a holistic transformation coach who helps women who have lost their 'MOJO'. My 10-day challenge Finding 'MOJO' is a unique holistic ALL-IN approach to helping women raise their vibration and create the life of their dreams. It starts with getting in the right headspace to take consistent action towards their goals whatever they may be.
When we lose our 'MOJO' we can fall into some bad habits, gain weight, feel sluggish, de-motivated, which then makes us not feel good about ourselves. I help women get back on track, maximize their health and energy, raise their vibration and help them lose weight. Help them get focused, feel good about themselves and be ready to smash their goals.
If creating a successful business is a goal then I move them into my 12 week mentorship program - 6 Figures and Beyond. This is specifically designed to help struggling coaches, network marketers, personal trainers and holistic health practitioners build their business online using social media to attract their ideal clients.
I help them grow their audience, build influence and take them through a journey to finally closing the deal on their offers.
Learn more and Join the 10-day Challenge: https://KarenRobertsCoaching.com
Book your 15-min discovery call to gain access to the 10-Challenge: https://KarenRobertsCoaching.com/discovery Register
for 6 Figures and Beyond here: https://karenrobertscoaching.com/6figures-registration/
For products, including collagen and digestive enzymes and MOJO: https://KarenRobertsCoaching.com/Tranont
Learn more about the Quantum Healing Device:
Europe: https://KarenRobertsCoaching.com/join-healy-eu
United States: https://KarenRobertsCoaching.com/join-healy-us
Protection from harmful EMF: https://KarenRobertsCoaching.com/EMF-protection